Pain for beauty, abnormal body piercing
For my very first blog post, I would like to talk about my obsession with…
Body Piercings.
I love things which are unique and one of a kind. Things which are beautiful and stands out. I can't say that my taste is everyone's cup of tea, but it doesn't matter, as long as I find it interesting. And once I set my mind on getting something- I will do almost whatever it takes.
My addiction first began with my ear piercing when I was much younger; most girls had it done too to put on dazzling earrings. Of course, it also compliments my girly-dressing. However, as I grew older I started to feel that it's too common; walking down the streets as every girl has a piercing on their ears.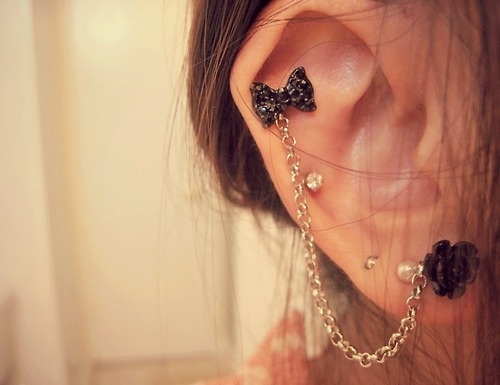 It's no longer something special to me. And with my long tresses, it became more of a hindrance to me; not only does it get tangled, it's barely even noticeable anymore.
Then I came across micro-dermal piercings through one of my friend. I felt it was unique, outstanding and most importantly, not many people had them (especially in Singapore). Imagine a diamond mounted onto the skin. I knew it would make me stand out and be much cooler than the usual belly/ear piercings. I've this weird sense of attraction towards a mix of craziness and classiness.
The process of the piercing is a hole being drilled into my skin. The diamond was mounted with a T-bracket with a long and short end. They will then slip in the long end and try to press in the short end without causing the hole to enlarge. The procedure on the arm was painful but still bearable.
And Voila~ I had my first micro-dermal piercing during my trip to Taiwan around February last year and felt it was drop dead gorgeous; I fell in love with it instantaneously!!!
The thing about piercings is that they are like tattoos, you will never stop at one and it became an addiction. So the following month, I sought out my friend, Dwayne, who specialises in these kind of unconventional piercings in Singapore and went on to get one more at the same spot on my left arm and another on my chest.
With my three piercings, it was like an "ecstasy high". It was beautiful, classy, erratic and one-of-a-kind, all at the same time- all the traits I would die to have. To me, it's like a form of identity which describes my eccentric personality.
Many people were concerned that it might be easily ripped off or hooked onto garments etc, which would hurt a hell lot. And if I don't keep them clean, infections can occur.
But at the end of the day, I seek beauty in such things. I know it may not seem normal to most people, but it doesn't bother me at all. Beauty comes with pain. And If I opted for it, it's only my due diligence to maintain it right?
At the end of the day, my thirst for beauty over throws the pain and hassle.
What say you? What's the ultimate extreme that you would go, while seeking for beauty?