Juicebits Trend Wrap 2013
It's the time of the year again, the end of 2013.
I thought, why not close this chapter with a splash of
our favourite trends in '13!
1. Striking Neon
I'm absolutely in love with this year especially because I've witnessed how many people, especially Singaporeans, grew out of their comfort zone and no longer limiting themselves to just dull black apparels. Neon colours were a big hit. And it has added so much more vibrance and colours to our green city.
"While it's not for the shy,
the sharp-edged colour will please those drawn to making a strong statement."
Glad to be seeing more confident-beings on the streets these days!
2. Peaceful pastels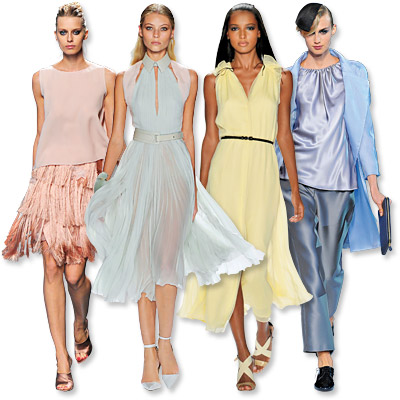 There's an innocence to these feel-good textures and pastels… needless to say, girls just look extra elegant and sweet in them.
Floaty, boudoir-inspired silks in chiffon and satin feel as gentle as a breeze as they swirl around the female's body in sherbert shades.
One word, effortless. Wear them for dates, get ready to have them men fall head over toes and make a big bang for the end of the year!
3. Oh them radiantly coloured laces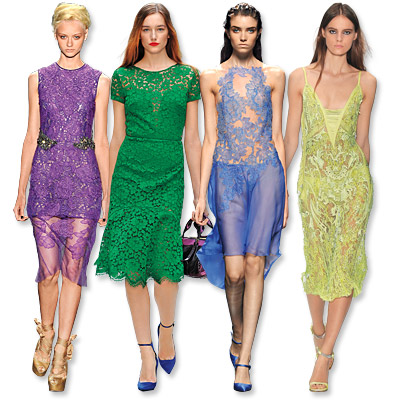 Lace dresses are often either conservative or coquettish, but these strike a lovely balance. Think Catherine, Duchess of Cambridge (can't you see her in the green one?), not the Queen Mother. Playful colours countered the naughtiness of the lace, creating a sexy attitude that's anything but stodgy.
So much attitude in this style, lace's no longer stereotyped for the old.
Classy yet trendy, I'm sold 😉
There, I'm gonna leave you with my top 3 picks for now.
What's your favourite of 2013,
that you would wear again in the new year to come?